Houston Pediatric Private Duty Nurses You Can Trust
Daisy Kids Care Provides Private Duty Nursing Services
Have you considered private-duty nursing services for kids? If you're the parents of a child who needs constant medical care, an in-home nurse could give you the help you need. Daisy Kids Care employs compassionate private-duty nurses to visit homes in and around Houston, TX, and provide the highest-quality medical care. We serve Tomball, Cypress, Katy, Spring, Magnolia, Humble, Conroe, Sugarland, and The Woodlands in addition to the Houston metro area.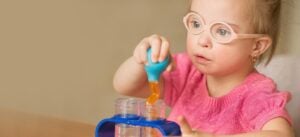 What Are Private Duty Nursing Services for Kids?
We often hear about private duty nurses as they relate to taking care of old folks. However, the elderly are not the only people who can benefit from skilled in-home nursing. Pediatric private duty nurses at Daisy Kids Care make house calls to take care of children needing at-home care. Our nurses come highly recommended and are either Registered Nurses (RNs) or Licensed Vocational Nurses (LVNs). They work one-on-one with patients to create the best plan for their overall health and well-being.
All in a Day's Work for a Private Duty Nurse
Our pediatric private duty nurses are here to bring the quality care you'd expect from a clinic to the comfort of your own Houston, TX home. Nurses from Daisy Kids Care provide an array of services, all look out for the well-being of the child. On a typical day, our private duty caregivers for kids will read and apply doctor's orders, evaluate the child's condition, administer medication, and coordinate care schedules with other healthcare providers.
Above and Beyond Skilled Private Duty Nursing Care
Although private-duty nursing services for kids primarily focus on medicine and adhering to doctor's instructions, our nurses do so much more. For one, skilled private-duty nursing care for kids gives a much-needed respite to the parent or guardian normally responsible for the child's care. At Daisy Kids Care, we understand the challenges of being a primary caretaker, and our private-duty nurses in Houston, TX are happy to help. Other tasks our pediatric private duty nurses may assist with include:
Emotional support and companionship: When a child is sick, they lose out on opportunities to make and socialize with friends. A private duty nurse goes a long way to making an ill child feel less isolated.
Personal hygiene and self-care: Some of our patients may need extra help with bathing, grooming, and other hygiene tasks. If this is the case for your child, we're ready to help.
Getting around: Depending on your child's condition, mobility may be a struggle. Private duty nursing services for kids mean someone will be around to make sure your child can move about your Houston, TX home.
Communication: Private duty nurses are the crucial go-between for parents and healthcare providers. Nurses will be able to decipher doctors' instructions and make sure you and your child understand the treatment plan.
When to Look for Skilled Private Duty Nursing Care for Kids
Parents choose pediatric private-duty nursing for a variety of reasons, and Daisy Kids Care is happy to accommodate. We understand there are numerous children affected by debilitating conditions and disorders requiring in-home care in Houston, TX. Any child needing around-the-clock care can benefit from a private duty caregiver. If your child is dealing with any of the following circumstances, you may want to consider calling Daisy Kids Care for private-duty nursing services:
Chronic respiratory problems, including dependency on a ventilator
Brain damage or other traumatic injuries
Premature birth
Severe, chronic illnesses
Mental disorders
Paralysis
Get in Touch with Our Compassionate Houston Caregivers
As the parent of a sick child, you understand the importance of reliable healthcare providers. Our skilled private-duty nursing care for kids strives to be a trustworthy source of care your child needs. Whether your child has sustained a brain injury or was born with a condition requiring them to be in constant care, we're here to help the Houston, TX community. If your child could also benefit from physical, occupational, or speech therapy, schedule a visit to our pediatric therapy clinic. The search for quality private-duty nursing is over—contact Daisy Kids Care today.
Why Choose Us?
No Wait Lists
Comprehensive Care
Fast & Easy Transitions
One-On-One Patient Care
Locally Family Owned & Operated
Ongoing Quality Monitoring & Improvement