Houston Pediatric Therapy Clinic
Daisy Kids Care is a pediatric therapy clinic in Houston that provides our patients and their families with the care and support that they need to get better. Our private pediatric nurses and home care therapists specialize in working with children and in understanding the needs of our patients and the dynamics of the entire family to provide a greater level of care. Our team of medical professionals dedicates itself to providing your child and family with comprehensive therapeutic interventions and nursing care. To learn how our team can help your child, contact our office today. We don't have a wait list!
Another thing that makes our clinic unique is that we are the only Dr. Seuss clinic in Houston. Every therapy room is based off of a Dr. Seuss book!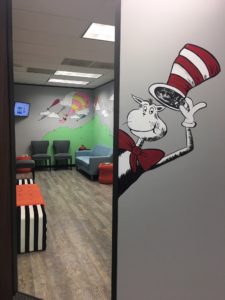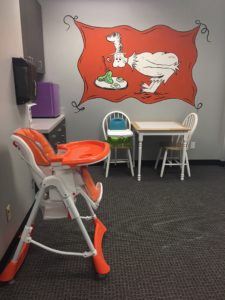 Our therapy clinic
Daisy Kids Care offers many different areas throughout the facility to fit exactly what the therapist requires to work with your child. They include:
The PT gym is an area that has scooters, floor mats, weights, therapy balls, a rock wall, loft, ball pit, and stairs. Physical therapists use this equipment to help your child increase their strength and mobility. Especially as a child gets older, or when space in the home might be limited, the use of the gym can assist the therapist by increasing how hard a child is working during certain activities.
The feeding room is a space that has a play kitchen, play food, feeding utensils, mirrors, and several other tools used to assist the speech therapist in teaching your child much needed activities for daily life.
The speech & OT rooms are areas that are set up with tables, rugs, cozy reading corners, games, and mirrors. These rooms are well equipped to assist the speech and occupational therapists with activities to help improve fine motor or speech concerns.
The sensory room is a space where children can explore different sensations that challenge their sensory system. Our underwater-themed room offers a bubble tube, cozy corner, fiber optic lights, soothing lights and sounds, as well as aromatherapy. This room is sure to stimulate your child's senses while keeping them relaxed.
Pediatric therapy services
Daisy Kids Care provides the following pediatric therapy services to children in the Houston area:
Occupational therapy
Occupational therapy helps children that are having problems doing everyday tasks, or those that are behind on developmental milestones.
Physical therapy
We offer physical therapy for children who have been ill, injured, or are having problems building strength or recovering from an issue.
Speech therapy
We provide speech therapy for children who are experiencing problems with eating, speaking, understanding speech, and other related issues.
Affordable therapeutic care
Our accomplished medical professionals are able to provide your child with one-on-one care that is comprehensive. We understand that many parents might be worried about being able to afford the care their child needs. That's why we work hard to make sure our services affordable. We accept self-pay, Medicaid, and any private insurance with out-of-network benefits. Please call our office to learn more, or to schedule an appointment with our caring team.
Contact us today for an appointment!
Why Choose Us?
No Wait Lists
Comprehensive Care
Fast & Easy Transitions
One-On-One Patient Care
Locally Family Owned & Operated
Ongoing Quality Monitoring & Improvement